It's beautiful... We love it!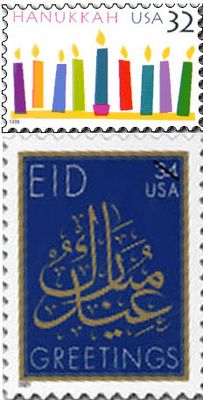 The U.S. Postal Service expanded its Holiday Celebrations Series on August 12, 2001 and issued the first American stamp to commemorate a Muslim Holiday. In response to that, Azeezaly S. Jaffer, Vice President, Public Affairs and Communications for the Postal Service, who will dedicate the stamp. "The Eid stamp will help us highlight the business, educational and social contributions of the estimated six to seven million Muslims in this country whose cultural heritage has become an integral part of the fabric of this great nation."
W. Deen Mohammed, spokesperson for the Muslim American Society, said: "It is beautiful. We love it."
It's beautiful. We love it. How sweet.
Today I was shown by an American Jewish friend a series of correspondence that was sent to her. The letter was, in her words, the most hateful most racist comments about Islam calling upon people asking now people to discontinue this stamp. It was very ridiculous to see these people fighting this battle now. The letter used all colors and captions and highlights possible to bring the reader's attention to how Islam should be hated and not celebrated since these are the terrorists who are ruining the American way of life. I dismissed it as a small group of fanatics till she told me how far this had been reaching and who some of the people voicing the outrage are.
I never take a defensive posture when I fight for what I believe in but hold on for a minute here. This is not politics. People are genuinely convinced that Islam is an evil religion. Where is this going? Have we already forgotten the last time we decided to persecute people who follow a religion different than ours and how that ended? There are 1.2 billion muslims in the world according to the Council on American-Islamic relations. That is 22 % of the world's population and the second largest religion after Christianity. There are around 1.8 million muslims in the US. Are we going to drive them all to the sea? Let's all be very careful here before we get humanity into another global crisis. What can we do to release the building tension before it's too late?
After I saw that I searched American stamps representing Jewish holidays and I saw this, "the U.S. Postal Service unveiled a new series of "Holiday Celebration" stamps in 1996* with the debut of the first stamp commemorating the Jewish holiday of Chanukah, the Jewish festival of lights"
I still thought, cool, how sweet…