SAVE OUR CHILD
...
Click here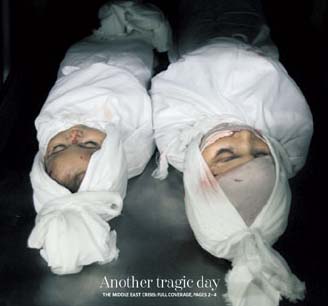 You see the child waiting anxiously,
For a little gift, for something to play with..By the door,
His little eye hurts, the blood had dried,
He doesn't forget how he was hit,
But he doesn't hate,
He forgives
For he's a child and his heart is pure,
He sits and waits,
For a better day,
For daddy to give him
His toy back..
The door opens
He smiles and run
Like the child he is
Chuckling with joy
His daddy is home
Daddy seems mad
He is mad like yesterday,
Daddy is angry at the world
For he once was a child
With a bloody face
The child wants attention
Still wants his apology
And still wants to play
He is still punished
But he wants his toy back
He runs to daddy
He acts out
Daddy hits him
He gathers his little fist
And throws it at daddy's back
While crying
Once, twice…
He doesn't want to cry anymore
And he wants his toy,
Daddy finally loses patience
He turns towards him
He hits him on the head
And on the face
And he keeps going
He hits him bad
He hits him hard
The child is screaming now
The child is bleeding now
Daddy doesn't stop
And while mommy watches
While the neighbors watch
We can't stop him they say
He has been hurt as a child
He's a victim himself
The child bleeds now
Curls in a corner to bleed
Mommy hands daddy a whip
He goes and carries on
He whips him on the face
And on the back
And on his tiny legs
The child was hiding his face
But now he doesn't
He stops screaming
He looks back in defiance
And daddy hits even more
Cry…cry
But he wouldn't cry
He's frozen by will
And it makes daddy angry
And he hits hard
Little does daddy know
The child died…
Worth your time today:
Johnn Hari draws a profile of daddy
Still the best i heard, Tina Naccache
Still the best i read
Still the best writer
Still the best perspective
Still the best source
The best analyst of internal politics.
Fish khel'ak
Z hits it home, keep an open mind..
Check out Gaea's selections
And read what the princess had to say today...
More peace activities in New York:
Friday July 28
What: Demonstration at the Israeli Consulate, Stop the War, Stop the Killing
When: 3:30 to 6:30 P.M.
Where: 2nd Ave. - Bet. 42nd St. & 43rd St (In front of The Israeli Consulate)
Contact:
info@al-awdany.org
Saturday July 29
What: March Across The Brooklyn Bridge, Stop US Sponsored Israeli Terror
When: 2:00 PM - 5:00 PM
Where: Cadman Plaza Park, Brooklyn (near the Brooklyn Bridge)
March across the Bridge and Rally at Thomas Paine Park, Manhattan
To download flier and distribute please visit:www.naaponline.org/ny/Rally06/rally_7_29_11.JPG www.naaponline.org/ny/Rally06/rally_7_29_5.5.JPG
www.naaponline.org/ny/Rally06/rally_7_29_8.5.JPG
Contact: Ad-Hoc Coalition for Justice in the Middle East -
protectpalestine@gmail.com
.
What: A Music Benefit for Lebanon and Palestine
When: 9PMWhere: Alwan for the Arts, 16 Beaver Street, NY, NY10004
http://www.alwanforthearts.org/directions.html
How Much: Donation $20 / $30 / $40
All proceeds will go to humanitarian relief organizations.
Contact: info@alwanforthearts.org